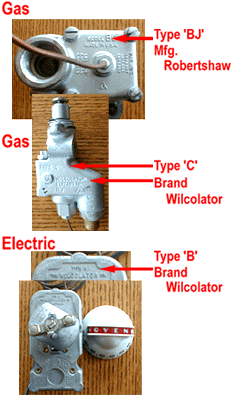 WE REBUILD OLDER 1920s - 30s
HEAT 'Regulators'
Lorain, Robertshaw, Wilcolator etc.
FREE phone or e-mail consultation with all orders.
IMPORTANT:
Do not use your stove without a thermostat.
See Block Off Kit info below.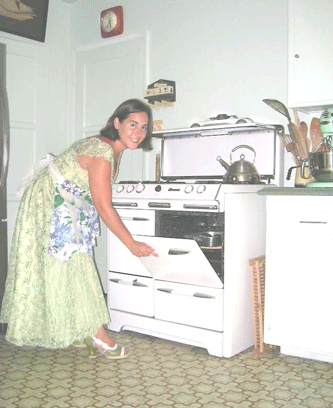 Thermostat Rebuild a Success
for 1930s Range
"Had the big holiday party on Saturday & our stove was
a huge hit."
Dear Jack,
Thanks, Jack, for your continued help with my stove project. As always, you are quick to offer support. A few weeks ago I was quite sure that my Bristol Universal, which I bought curbside for a mere $40, was going to end up in the garage beyond repair. J.E.S. Enterprises was wonderful about helping me find a replacement for my 1930s stove. Made a heck of a garlic & rosemary chicken the other night with oven browned potatoes.
- L. Apfelbeck, WI
P.S. - Had the big holiday party on Saturday and the stove was a huge hit. LOTS of folks eyed my Bristol-Universal with envy as we melted the Brie and heated water for Tom & Jerry's. Two women asked "So, where's the stove you really use?" When I said the Bristol-Universal was the one and only, eyes lit up. There may be more tribal members in Manitowoc soon. :)
"Just wanted to give you guys a big American-Flag salute for helping me get our stove up and running. My wife is so happy!"
- R. Mellinger, MI
Thermostat Rebuilding preserves the function,
originality and value of your range .
1. Thermostat is located behind the oven dial.
2. Keep capillary tube attached - do not take apart.
3. Thermostat Model Type and Numbers are on the back, side or front (see pictures).
NEW
Click here to take a look at pictures of some models to match yours.
We will still need the Type, brand and Numbers
on the back and side of your
Domestic or Commercial Thermostat.
(Stove type not required.)
Call (805) 643-3532 to find out if your
Thermostat is IN-STOCK.
Besides optimum performance,
using original thermostat parts saves time, money and protects our environment.