Range Boiler's made by Vaughn
Vaughn's Range Boiler combines Hydrastone, the most effective method of preventing corrosion, with all bronze tappings. Vaughns stone lined range boilers provide the advantage of long tank life at a surprisingly low price.
For three generations Vaughn has built range boilers of heavy gauge steel with a seamless one-

half inch thick Hydrastone lining and bronze fittings at all six water openings. Vaughns unique manufacturing process has continually combined this old fashioned quality with ongoing advanced technology in providing the longest lasting and most environmentally friendly tank available.
This unequalled combination of quality, the latest technology, and continuous commitment to the industry has always set Vaughn apart from other tank manufacturers.
| | |
| --- | --- |
| Hydrastone is a ½" thick, seamless layer of specifically engineered cement lining that coats the entire surface of the inner tank protecting it from the corrosive effects of water. Click on Stoney to learn the unique manner in which Hydrastone works. | |
Features
Hydrastone Lining - A seamless one-half inch thick lining which has proven to be the most effective method of preventing tank failure due to corrosion.
Bronze Fittings at all six tappings eliminates corrosion due to dissimilar metals. No dielectric unions or anode rod required.
Heavy Welded Steel Legs
Hand Hole Cleanout Option allows for easy inspection and cleaning of bottom of tank.
Wide Model Selection - 30, 40, 80, and 120 gallons.
Protected in Shipping - Newly designed container allows for easy inspection and disposal.
5 Year Limited Warranty on all models.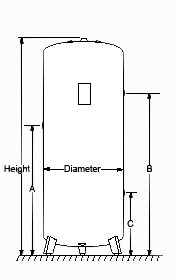 Dimensions in inches
MODEL

CAPACITY

GALLONS

HEIGHT

OVERALL

DIAMETER

A

B

C

WEIGHT

T40-RB

40
56 3/4
16
33
45 5/8
11
212
T80-RB
80
56
22
33
46
11
280

T120-RB

115
67
24
33
57
11

395
How to install and use a Range boiler